Minecraft Sphere Generator is a tool that is used for making dome & pixel spheres to expand Minecraft landscapes, check it out now!
Either fill the sphere, or calculate which position may be left empty.
On each layer darken the previous layer to ease building.
Minecraft Sphere
In games that feature Minecraft, spheres are utilized for construction. When building something in the virtual world of Minecraft, you may demonstrate your expertise and save a ton of time by using the Minecraft sphere generator.
If you want to play Minecraft with curves, you'll need to practice a lot to gain the next-level perks.
Minecraft Sphere Maker
Minecraft sphere generator is used to create sphere structures. This inventive tool can be used by those who have a passion for building and establishing things. This program, which is block-based, enables you to create any sphere design of your choice
The users of this tool control the blocks and give their designs a creative appearance. By giving you the notion of where to put the blocks, the sphere maker Minecraft simplifies your task and saves you time. By making use of the pixels, you can methodically demonstrate your ingenuity.
We permit you to use the entire screen so you can view it more clearly. With the help of our tool, you can now brilliantly construct spheres and use them wherever you choose to.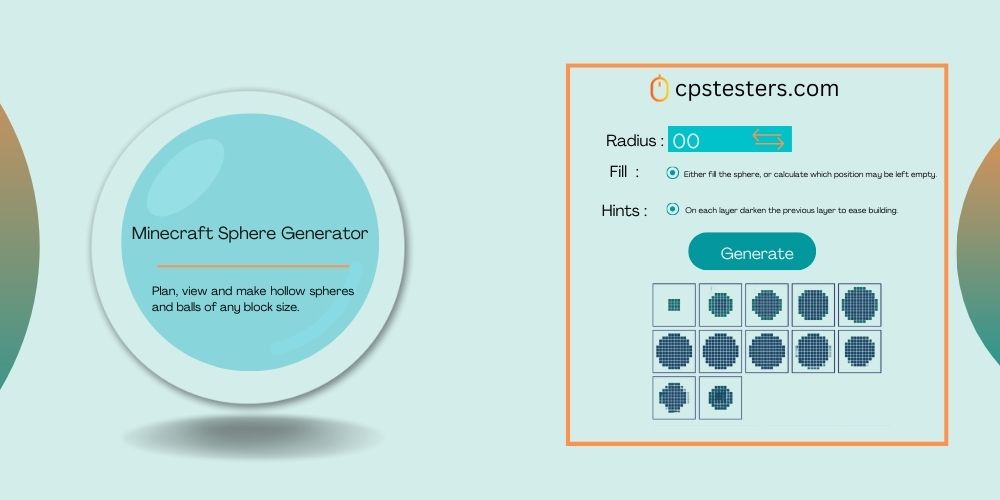 How To Use Minecraft Sphere Generator
If you are using this tool for the first time, the procedure will be simple for you. For your convenience, we have put up a write-up with information that you may use if you want to make a hollow sphere. You must adhere to these instructions.
The Minecraft sphere generator tool is visible in the menu bar. Simply tap on it, and the following page will appear on the screen.
Provide the radius of your need to create the sphere you need. This program creates a model by default that has a radius of six with the recommended options turned enabled.
Use the Hint button to add red dots to the borders for your convenience if you want a filled sphere in Minecraft.
Block choices let you align the number of blocks.
Press the generate button once more to create the sphere form using the settings you just chose.
You can see the number underneath the generate option as well. It is the number of blocks required to create the spherical in Minecraft.
Depending on your preference, you may decide at any time if you wish to return to the model menu. You may use your browser to go back.
Moreover, a right-hand slider is included, as you can see. You can use it to display a certain horizontal layer of your model. Both 2D and 3D perspectives can be addressed by the right-hand slider. For the 3D model only, this layer will be highlighted in a bright yellow color.
You may now easily create your design and incorporate it into the Minecraft spherical game. By using the pixel sphere generator tool, you can discover more unique ideas for construction.
You Can Also Try Out Minecraft Circle Generator!
Features of the Minecraft Dome Generator
The Minecraft sphere generator is a potent tool created to help players create amazing spheres and other spherical-inspired objects like domes by using the Minecraft dome generator and building tops, expanding the potential of Minecraft spheres.
Even though this program has a ton of intriguing capabilities, we're going to include all the features that are necessary for building Minecraft spheres here:
With the aid of this sphere maker, it is possible to produce spherical forms with adjustable radius sizes.
The tool delineates just how many blocks are required to build your ideal sphere in the Minecraft game.
You have the option to create two different sphere designs, one with aligned blocks and the other without.
You can choose to outline the sphere or leave a blank space, based on your desire.
FAQ's
What is the command in Minecraft that creates a filled sphere?
To effortlessly make a complete full circle in Minecraft, use the following command: To create a filled sphere, type /sphere.
Who can use the Minecraft sphere generator?
This tool can be used by those with construction skills. This technique is also used by those who lack any construction-related experience to increase their level of creativity. This tool allows kids to experiment with various block-based layouts. Players of the video game Minecraft are using this tool to design buildings.
Other Minecraft Tools: