Looking for a font generator that is best for Minecraft? Try our Minecraft Font Generator tool below and copy now!
Minecraft Font Generator
Minecraft Font Generator enables you to create text styles using the fonts seen in the game. It enables you to create text graphics that are reminiscent of the Minecraft logo and other game graphics. Once the typeface of your choice has been created, you can save it in image form and use it wherever you want.
With just one click, you may copy and paste a wide range of trendy and contemporary text into any computer or mobile device. Many people all over the world use the Minecraft text font generator tool to change regular text into elegant, ornate, and cursive fonts without having to install any extra fonts or apps.
How does the Minecraft Font Generator Tool Work?
You must enter some random text first to produce the typeface of your choosing. The Minecrafter font generator then transforms it into a special typeface that you can use. The steps to finish this process are listed below:
Enter your text in the font generator box in the first stage
Then wait for it to generate various fonts for you to choose from
Simply copy and paste Minecraft font to Instagram, Facebook, or any other social media site of your preference.
The generator can produce text in calligraphy, unusual cursive, handwriting, and digital script fonts, among other text styles. Additionally, you can include more emojis and symbols.
This kind of font generator converts the given text into an equivalent but "fancier" Unicode symbols or letters.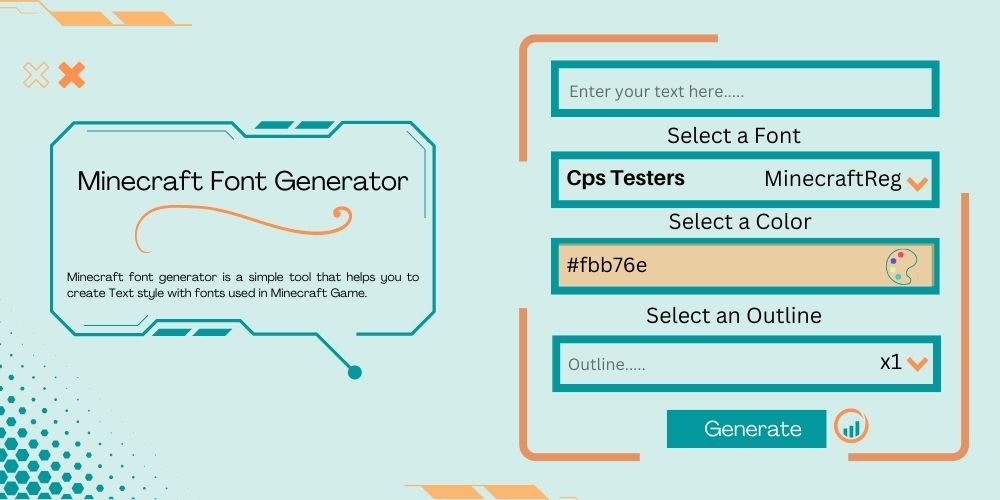 Features of Font Generator Tool
The following features of the font generator are truly amazing:
This font generator converts the text into real-time.
It will show unique and cool fonts style for you.
Font size can be increased and decreased easily.
You can share this tool with your friends via Social Media platforms
Generated fonts give you more flexibility because they can combine elements with any font style.
FAQ's
What font is Minecraft font?
The "Minecrafter Font" featured in the Minecraft logo is a form of techno font that may be used on Macs, Pcs, iOS, and Android devices on any computer. A free font created for personal usage is called Minecrafter.
Can I use the Minecraft Font Generator tool on Mobile Device?
Yes, the online Minecraft Font Generator tool is responsive to mobile devices. You can now get started by simply opening the cpstesters.com website in your device's browser. It functions the same on a computer and a mobile device.
You May Also Check: