Mac keyboard tester is online fast and easy-to-use tool that you can use to check your MacBook or iMac keyboards!
Esc
F1
F2
F3
F4
F5
F6
F7
F8
F9
F10
F11
F12
⏏
"
'
return
option
command
Spacebar
command
option
Mac Keyboard Testers
Keyboard testers are highly practical and helpful. You only need to open a keyboard tester tool and complete the activities that are specified. You may quickly assess the quality by carrying out a few straightforward tasks. The use of these keyboard testing tools is free. No program must be purchased. This was a succinct description of a keyboard tester for computers; hopefully, you got some idea.
How to use our Mac Keyboard Tester?
To make sure every key on your Mac full keyboard is functioning properly, you can test it. You can simultaneously press several keys. The following are the steps to test your keyboard:
Select the key or keys you wish to test.
If the key functions properly, our tool will show whether or not the key was clicked.
The key that was clicked on the virtual keyboard will likewise be illuminated.
If it doesn't illuminate or show the message, your key could not be operating properly.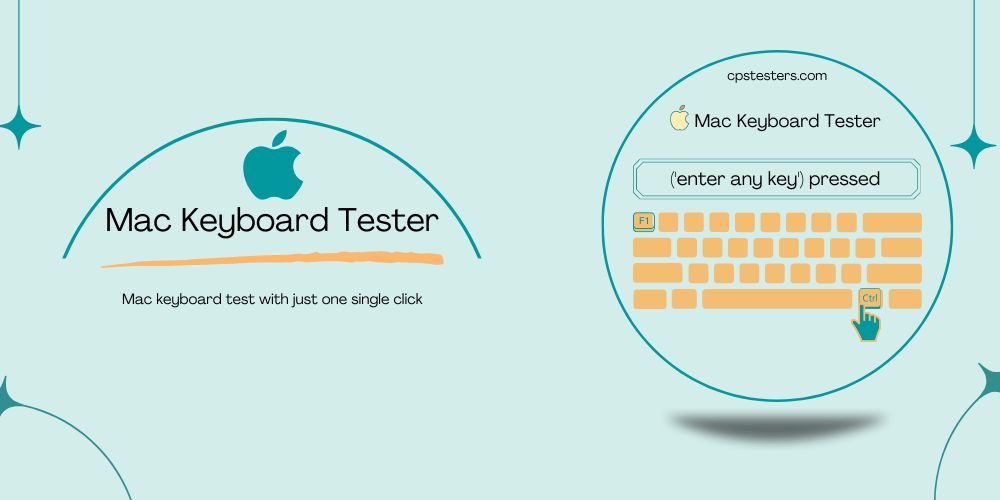 Why you should Use our Mac Keyboard Test?
The execution of our keyboard test tool only needs a few clicks to be completed.
Our tool is designed for everyone; thus, no expertise is necessary for keyboard testing.
While you are keyboard testing, only you will have access to your information which is protected and secure using the HTTPS protocol.
You don't need to download any extra software on your device to use our keyboard test tool because it is entirely online.
You won't be charged anything to use our keyboard tester mac tool to examine your keyboard.
Because our keyboard test tool is entirely browser-based, you may access it whenever and wherever you are.
What if the Keyboard Test Fails?
Make sure that the keyboard is properly connected to the computer. Try to attach a USB keyboard to the connectors on the front and rear of the computer if one is available.
You can also try using Windows' built-in Device Manager to perform troubleshooting if your keypad is not responding properly. It will enable you to determine whether your keyboard is malfunctioning or not.
You might try using a Driver Booster to find the trouble codes. Use the efficient tool Fix Device Error to fix any faults you find.
FAQ's
How can I test my Mac keyboard?
To check your keyboard and determine which keys are functioning properly and which keys are causing issues, try our online Mac keyboard checker.
How do I know if my Mac Key is broken?
By testing your keyboard using our online testing tool, you will get to know which key on the mac keyboard is working and which one is broken as the broken key will not show any response.
Why do I need to test my Keyboard?
Your keyboard's some keys might be troubling you. Maybe you can't tell whether the issue is with the hardware or software you're using. This is where our free online Keyboard Tester can be of use. You can use this tool to find out whether each of your keys is functional.
How do you reset an external MacBook Pro keyboard?
Ensure that the USB connector is inserted into the USB port when you reconnect the keyboard by unplugging it and plugging it back in. Alternatively, you might try connecting the keyboard to a separate USB port.
Some of our keyboard tools are: