Keyboard Test is an online tester tool that will help you to check your keyboard keys if they are working or not, you can further have a solution to solve them!
Do you wish to try out the keyboard buttons? Is your keyboard malfunctioning? Do you need to check the functionality of your keyboard online? Try our tool. There is an online Keyboard Test here for you to use. Also, if you're having trouble with your keyboard, we can help. Put your worries to rest if you're dealing with any of these problems. We've released the most advanced key testing software available, which can detect any malfunctioning keys on your keyboard.
Keyboard Test
It's possible that investing in a good keyboard will help you increase the number of words per minute that you type. To figure out why the keys on your keyboard are not moving when you press them, you will need to test each key individually and manually. It is unavoidable that you will experience instances in which you will feel as though your keyboard is skipping words rather than allowing them to flow continuously, and these scenarios will occur on occasion. Every single person will, at some point in their lives, experience this issue.
Apart from appearing in the test, you can also do keyboard calibration to have better performance of your keyboard to perform at your office or in your game.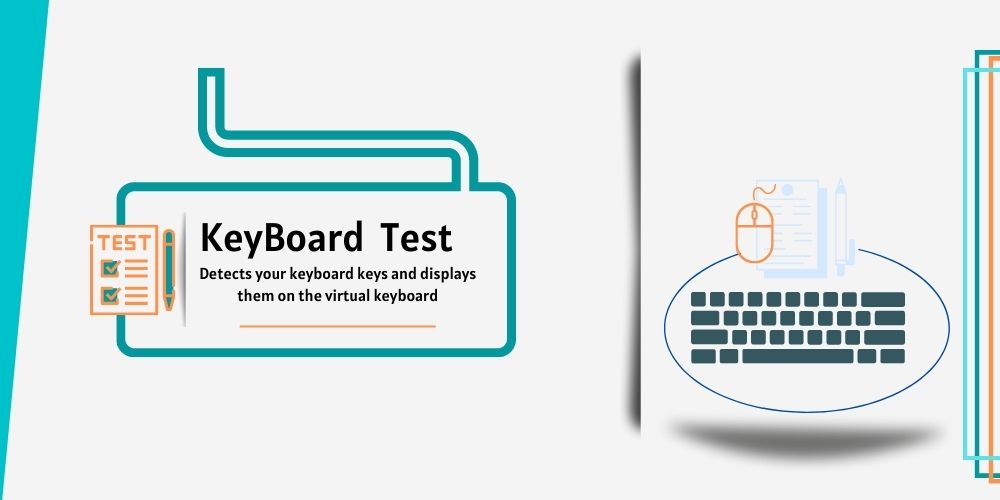 How to Test Keyboard?
Manually Typing in Word Processor
Start up a word processor (we suggest using Microsoft Word or Google Docs), and begin tapping away to determine whether or not your laptop's keyboard is functional. If each key registers as it should, then your keyboard is functioning normally.
This approach can be used to test the majority of the keys on a keyboard, but it cannot test specialized keys like the Escape and Function keys. Additionally, it is difficult to determine whether or not the keystrokes you are making are being registered. The second choice is to utilize a keyboard tester that is available online, which will enable you to verify each key on your keyboard. This tester may be found in several different formats.
Using a Keyboard Tester Online
If you want to check out your complete keyboard, you'll need to use this second approach. Start by tapping each key on a keyboard one at a time on a keyboard tester like a keyboard tester.
Once a key is activated, it will change from red to green or blue. A defective key is indicated by one that does not change color when depressed. However, key combinations might not be testable with all available online tools.
Using a Third-Party App
This strategy has an advantage over the other two since it enables us to quickly check whether or not key combinations are being recognized. This advantage comes courtesy of third-party applications. Although there is a plethora of software available for evaluating keyboard skills, we will focus on the alternative that has received the highest ratings and is free of charge.
Let Device Manager Test your Keyboard
Device Manager is where you may check for hardware upgrades and other changes. If there's an issue with your keyboard, checking them could help you find it.
To ensure that no hardware has been altered, please do the following checks:
To access the Windows Device Manager, right-click the Start button.
The Keyboards subcategory needs to grow.
Then, select the option to Assess for component changes by right-clicking the keyboard device.
Putting the device through its paces will check for problems and reset it. If an exclamation mark or other error symbol appears, it's probably due to a malfunctioning keyboard, which requires additional investigation.
If it doesn't work, try right-clicking the device once more and selecting Properties from the menu. As long as "Your device is operating properly" appears in the General section, everything is OK.
Our Key Test Tool
Regardless of the laptop's make or model, the keyboard test will function as intended. Check the functionality of your laptop's keys with little to no effort. Most of the time, we didn't know if the mechanical keyboard was broken (due to sticky keys) or if some other function was at play (preventing the keyboard from operating normally). First, you should observe the keyboard's reaction to a keypress to diagnose the root cause of the problem. You won't have to make the unnecessary purchase, and you'll end up saving some cash as a bonus.
Online keyboard tests are the quickest and easiest way to determine the health of your keyboard. Simply visit our site and hit every key on your keyboard to see how well the tool works. A virtual keyboard with an identical layout will appear on your screen; when you tap a key, the color of the associated word will change, assuming everything is functioning as intended.
This is a convenient solution because it eliminates the need to hire the operator to try the keys. It's safe to assume that there are problems hidden behind a key whose color does not morph. By using this resource, you won't have to spend any money to do your investigation into the issue. Excellent, you have a functional keyboard on your desk; you can continue typing.
You May Also Want To Improve Mouse Clicking Through CPS Test
How to use our tool for the Keyboard Tester?
To conduct a successful keys test online using this program, simply follow the procedures outlined below.
Find the top online keyboarding exam by doing a web search.
Use the links on the search engine results page to navigate to our website.
To begin, head on over to the testing page, often known as the primary page or keyboard tester.
Take a look at the on-screen keyboard.
The color of the on-screen keyboard will change depending on the current state of the key you've hit.
When you press the button, it will change from white to blue.
If the key is functioning properly, it should turn green as quickly as you raise your hand.
There are issues with your key if the light does not turn green.
Congratulations, the testing phase is over!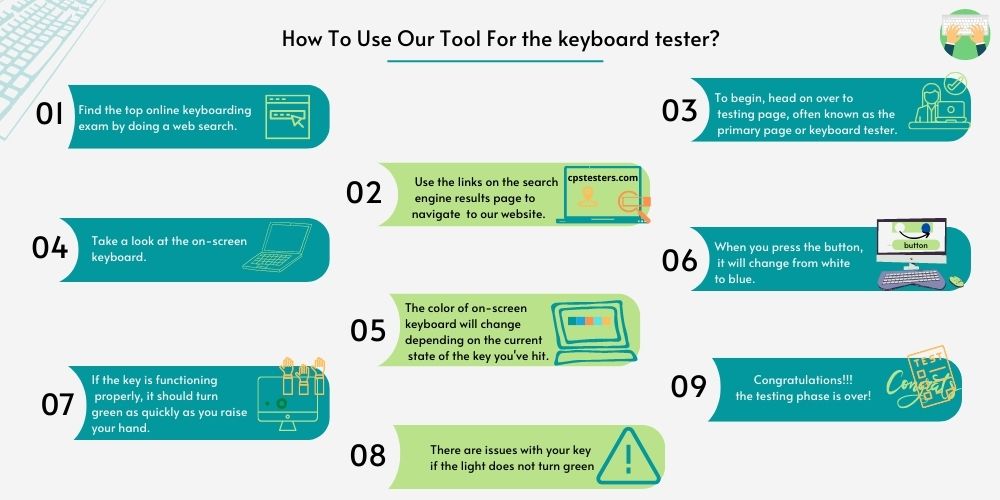 Why our Keyboard Tester?
Diagnose the problem
Determine the cause: It's annoying when the keyboard on our laptop or desktop computer stops working, and it's even more costly when we have to hire a specialist to fix it. You can use this keyboard tester to find out what's wrong with your keyboard.
Get No Cost Use of it
You may use this digital tool to test your personal computer, tablet, or wireless keyboard anywhere and anytime you like, and there are no hidden costs, pop-ups, or advertisements involved.
Easy and Fast
Check the functionality of the keys on your broadband or gaming keyboard by inputting them. Instantaneous feedback and results from the keyboard test are displayed on the virtual keyboard.
Guaranteed Confidentiality
Risk-free and risk-free at all times. Please rest assured that anything you typed will only be retained for you, and there will be no history recorded or uploaded on our website.
Invalid Download Error
Examine every single keyboard shortcut without leaving the web window you're now using. This tool does not require you to download or configure any additional software or connector for you to use it.
Validate your Mechanical Keyboard
The same can be said for the keyboard on a laptop, the operation of a personal computer, or a mechanical keyboard. In addition to the keys that correspond to the conventional alphabet, check the top row of keys, which includes shift, tab, alt, control, space, digits, and functions. In the long run, it will be essential for you to have access to every one of these operational wells.
You can run an input test on your new keyboard before you commit your hard-earned cash to purchase it if you want to ensure that it is up to your standards before you buy it. You may reduce the likelihood that you'll be working with a faulty keyboard and simplify the testing procedure by running an input test on the keys on your keyboard directly from our program. This will allow you to test whether or not they are working properly.
To Improve Your Typing, You Can Try WPM Test to check words per minute!
When should you use Keyboard Test Tool?
Nearly everyone has had the unfortunate experience of being frustrated by a keyboard that suddenly stopped working, only to find out too late that some of the keys had stopped working because they were rarely used. If you are typing and suddenly find that a key is not working, you should check it out with a keyboard tester as soon as possible.
Why should I use the Laptop Keyboard Tester?
You can reduce the amount of time, effort, and money you spend by making use of the online test keyboard, which is a straightforward option. In addition, going to the electronic outlet near where you live is not necessary. Our customers now have a way to fix the problem because we have revealed the factors that can lead to keys not working properly. Don't bother getting out of bed; you can take the test online. If after that the issue is still occurring, you need to consult a local technician in your area.
Does this tool support all Keyboards?
We have included a selection of different layouts to cater to the many different kinds of keyboards. In any event, the layout of the virtual keyboard is standard, which means that you do not need any specialized knowledge to text on the screen. There is support for every conceivable notebook, PC, and mechanical keyboard combination.
What to do if Keyboard Test failed?
Ensure that your keyboard is properly connected
Verify that the keyboard's cable is properly connected to the computer. If you are utilizing a USB keyboard, you should attempt to connect the keyboard to the ports located both on the front and back of the laptop.
Detect and rectify device errors
Next, you can verify if your keyboard is malfunctioning by using Windows's built-in Device Manager troubleshooter. Downloading our program to identify error codes and, more significantly, repairing them by employing one of the efficient tools. Our tool is one of the ways that we have made this process more convenient for you.
Re-installing the driver for the keyboard
Keyboard issues can be avoided by always having the most recent drivers installed and updating your program regularly. Download our utility to have all of your drivers automatically brought up to date to the most recent version, and to resolve any problems that may be occurring with your Windows operating system in a way that is both more time and effort efficient.
FAQ's
How can I test my keyboard?
Your entire keyboard can be tested in this way. Start pushing keys one by one on a keyboard tester. Once a key is activated, it will change from red to green or blue. A defective key is indicated by one that does not change color when depressed.
How do I test a used keyboard?
Launch a word processor (we recommend Microsoft Word or Google Docs) and start tapping away to see if your laptop's keyboard works. If every key properly registers, then your keyboard is fine.
How do I test F2 key?
Launch the application that makes use of the key, and then press the F2 button. A supplementary purpose for the F2 key is indicated by an accompanying icon on the key. To access the specific function, hold down the Fn key, and then hit the F2 key.
How do I test my Apple keyboard?
Access the Keyboard Viewer by clicking the Input menu item in the top menu bar and selecting the option to Show Keyboard. If the option is not visible, select Apple > System Preferences > Keyboard > Input Sources > Show Input menu in the menu bar from the menu drop-down.
Conclusion On Keyboard Checker
Finally, some concluding remarks will be made about the aforementioned resource. The online keyboard test is a helpful resource for determining the keyboard's operational efficacy. Your typing speed and productivity can be negatively impacted by a dirty or broken keyboard. A typist relies on a functional keyboard to do everyday tasks.
In addition, you can use this program with whatever keyboard you want to test. Keyboards of all types, including those found on Macs, other laptops, and even mechanical ones, can be tested using the same setup. Please tell us what you think of the keyboard test.
We Also Have Some More Tests: