A mechanical keyboard test, also called Switch Tester is a tool that is used to check the switch working of the keys of a keyboard. Try this testing tool and check your keyboard performance!
Mechanical Keyboards
Although mechanical keyboards cost a little more than standard keyboards, they are still worth the extra money. Since they offer quicker response times, greater durability, N-key rollover, a ton of added features, and are immensely enjoyable to use, mechanical keyboards are excellent for gaming.
You can try our mechanical keyboard tester to check your keyboard functions.
Keyboard Switch Test
Keyboard switch tester online is something you should consider if you're seeking an effective way to test mechanical keyboard switches. The numerous mechanical switches on a tiny board that make up a keyboard switch tester vary in the presence of keycaps. Given that you just need to purchase a few switches, this option is one that we strongly suggest because it is the most practical.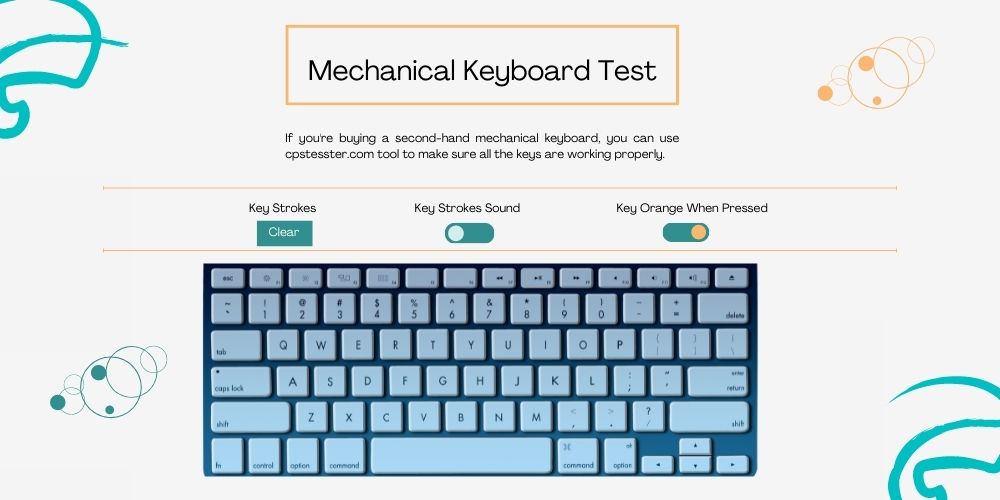 You Can Opt To Check For Any Basic Keyboard On Our Keyboard Tester!
How To Check if a Keyboard is Mechanical or Membrane?
You can determine if a keyboard is mechanical or membrane in a few various ways. Faster and easier than others. Here is a look at the best way to determine if a keyboard is mechanical or membrane-based.
Press the key on your keyboard to hear how loud it sounded. A mechanical keyboard is very probably present if it is noisy and clicky.
As an option, carefully remove a key from the keyboard and look under it to see if there is a switch. If there is, the keyboard is mechanical.
If you just bought the keyboard, notice if it says anything about it being a mechanical keyboard on the packing. If not, it is a membrane-based keyboard that is "regular."
Steps to Test Mechanical Keyboard
Once you have accessed our website, you can quickly test your keyboard using a mechanical key tester. The following are the steps to test your mechanical keyboard:
Check for the tool on the top of this page.
To test your keyboard, open the mechanical keyboard test.
A virtual keyboard will appear on the screen, along with some other options such as keystrokes, keystroke sound, and key color options.
You can test your keys by pressing the corresponding keys on the physical keyboard of your device, which will cause the key on the virtual keyboard to change color. This demonstrates that your keyboard is operating flawlessly.
You can start the test over by clearing the keystrokes. On the screen, the option is displayed.
If you enable the option on the website, key noises will be generated.
You may test every key on the keyboard in this manner.
How do you fix a Dead Key on a Mechanical Keyboard?
A mechanical keyboard that has a dead key can be fixed by changing the switch, once you run the switch tester online to find the dead key. Under each of them is a mechanical switch that can be changed individually. If your keyboard is hot-swappable, you can use the proper tool to knock the switch out and then click a new one in.
Although it's more difficult than swapping out a switch on a hot-swappable keyboard, you can replace a dead key on a fastened mechanical keyboard. To substitute the switch and solder in the new switch, you must first unsolder the solder joints connecting the switch to the keyboard. It is best to leave this repair to the experts if you are not confident using solder.
FAQ's
How do you test a new mechanical keyboard?
To test your new mechanical keyboard, you can use our online tool. Our online tester allows you to examine keys, keystrokes, and more.
How do you know if a mechanical keyboard is good?
Test the volume of the key by tapping it on your keyboard. A mechanical keyboard is very probably present if it is fairly noisy and clicky. Alternately, carefully remove a key from the keyboard and look under it to see if there is a switch.
We Also Have Some Other Keyboard Tools: