Minecraft Title Generator is an amazing tool that helps you to make the best title online, check it out today!
Minecraft /title Generator
Generate epic title commands easily for your custom maps and minecraft servers.
Minecraft Title Generator
It's a tool that allows you to use and develop your imagination to build your Minecraft title using various styles, fonts, and colors. It is just as simple as using MS Word; you have to type, select options from the bar, and you're done.
The title command generator for Minecraft not only works well, but it also provides utmost ease, a user-friendly interface, extra features, and more. All of these items are available for use without cost to you, therefore they are all free.
Your selection will determine the title's duration, the fade-in and fade-out durations, and the selector's setting. You may say that you have complete control over title generation. You can also reset it after creating your custom title here.
These are the fundamental, already-written headlines that express a concept or information you want to share with others. You cannot dispute the significance of the Minecraft title because it is the most significant in the universe of Minecraft.
Simply create your unique title using the name generator Minecraft. We hope that our tool will help you improve your gaming experience comfortably and originally.
How to Use Title Generator Minecraft
It is a simple process; just adhere to the directions.
See the tool on top of this page.
Use every bar that is provided on the tool.
Fill the duration, fade-in, and fade-out bars on the selection.
Name and subtitle should be added here. Your title is generated after finalization.
Let's have fun playing these fantastic games.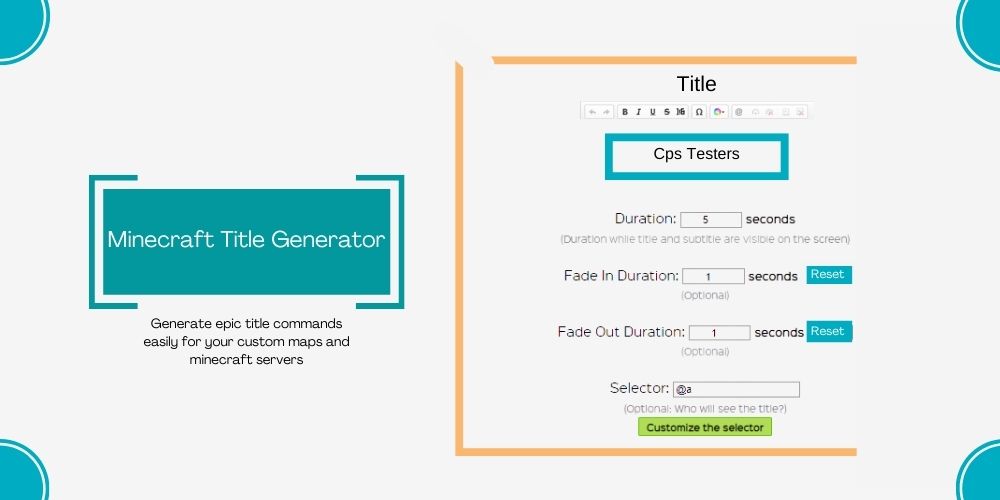 FAQ's
What is the purpose of a Title Generator?
With the help of the mc name generator, you may improve your gameplay experience. Even though most copywriting experts consider title generators to be amusing and useless, their true purpose is to spark creativity and content ideas.
How long are Minecraft Titles?
The book's title may contain up to 16 characters, and the player is not permitted to put text into a title. One experience level is always required to properly rename the book at an anvil, which serves as a "workaround" for the 16-character restriction.
What does the Title mean in Minecraft?
A player's title screen can be customized with the /title command. The syntax for the /title command varies based on what you want to do.
Is Minecraft generator risky to use?
Users can use a variety of tools on our webpage with trust and confidence because it is risk-free. The website is not only virus-free but also freely accessible to our users, allowing you to take advantage of it whenever and whenever you like. The desktop mode is easier to use.
Concluding Title Generator
Update Minecraft's title screen to make it seem smarter and more useful in-game. This is an excellent use for Minecraft because it is practical, affordable, and offers extra advantages. Creating and altering titles in Minecraft is no longer a major deal now.
These technologies, however, can enhance gaming performance and need work, enthusiasm, and commitment. So be sure to continue your practice.
Other Minecraft Tools: